STOBER EZ – new benchmark for servo motors
13 March 2015
STOBER is enhancing its servo system offer with a complete new development of servo motor the "EZ" that provides the best performance for demanding solutions. As a result this new motor is well suited to times of change in which the market demands a new philosophy for smart, efficient solutions.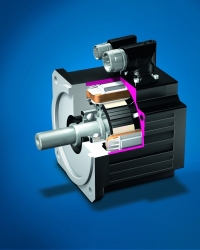 Even just the super-short design addresses these expectations. Its compactness is based on the increase in the performance per unit volume; the motor therefore offers the optimum performance in relation to power density, efficiency and precision.
This quantum leap is the result of a state-of-the-art production facility for the manufacture of the stator windings. The extreme power density is achieved with an optimum copper filling factor; this power density makes it possible to reduce the length to almost half that of a conventional design in the past.
With a newly calculated structural design of all motor components and with a large number of enhancements, a balance between powerful torque, high dynamic performance and precise constant speed has been achieved for this motor. In addition if necessary, the dynamic behavior of this servo motor can be modified.
This new series of motor from STOBER can also be supplied with a hollow shaft for mounting a pinion for direct attachment to the STOBER range of SMS servo geared motors. The series is initially available in the sizes EZ 4, EZ 5 and EZ 7 with lengths from one to five.
The length relates to the number of rotor segments in 25 mm steps.
The rear of the EZ motor can be equipped with various encoder technologies and brakes. A further option is the integrated liquid cooling that is available as a standard. A version with a continuous through bore hollow shaft is available for the sizes EZ 5 and EZ 7.
All these aspects make it clear this new design of the servo motor EZ is an advanced system development by an experienced motor manufacturer.
OTHER ARTICLES IN THIS SECTION