Editor's Pick
---
ARTICLE
Multi-touch HMIs
27 November 2015
With its ETT series of multi-touch operating panels, Sigmatek offers an optimal combination of multi-touch functionality in hard and software. The modern HMIs are claimed to enable new, smart operating concepts that provide a positive operating experience.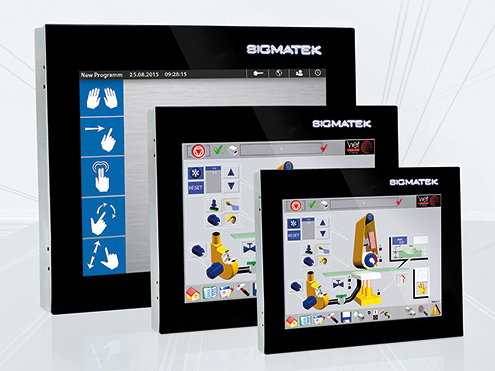 Equipped with an ARM-based EDGE2 Technology dual-core processor, the ETT panels provide high performance (2x 800 MHz) with low power usage. 512 Mbytes of DDR RAM for internal program and data memory, 512-Mbyte storage (microSD) for data logging, recipe and alarm management are also standard functions, as well as a 2D and 3D graphics accelerator. Even with graphically complex operating surfaces, the ETTs are in their element.
In the new SIGMATEK HMIs, projective capacitive touch technology (PCT) is used, by which the sensors are protected on the back of the robust, solid surface of the glass front (IP65 protection). Multi-finger input, as well as the use of styluses and thin gloves are possible. For now, there are five ETT display sizes: 8.4, 10.4, 12.1, 15 and 19-inch in classic 4:3 format.
The thinly constructed panels – with only a 48mm installation depth – can be mounted directly on the machine, an operating console or integrated into the control cabinet and are therewith suited for the most varying areas of use. The interfaces are particularly selected, so that the HMIs fit in any machine and equipment configuration: 2x Ethernet, 2x USB 2.0, 1x USB OTG (On-the-Go) and 1x CAN bus. 8 digital in and outputs each are also on board, which can be used for command and signaling devices such as toggle switches, signal towers and operating mode switches. The ETTs do not require a cooling fan and all connections are located on the bottom, which simplifies installation and maintenance.
OTHER ARTICLES IN THIS SECTION