ARTICLE
Automating switchgear manufacture
26 March 2018
Rittal Automation Systems is now offering new and improved machines and tools that will help automate or part-automate switchgear manufacture; the Secarex AC 15 cutting centre being just one example.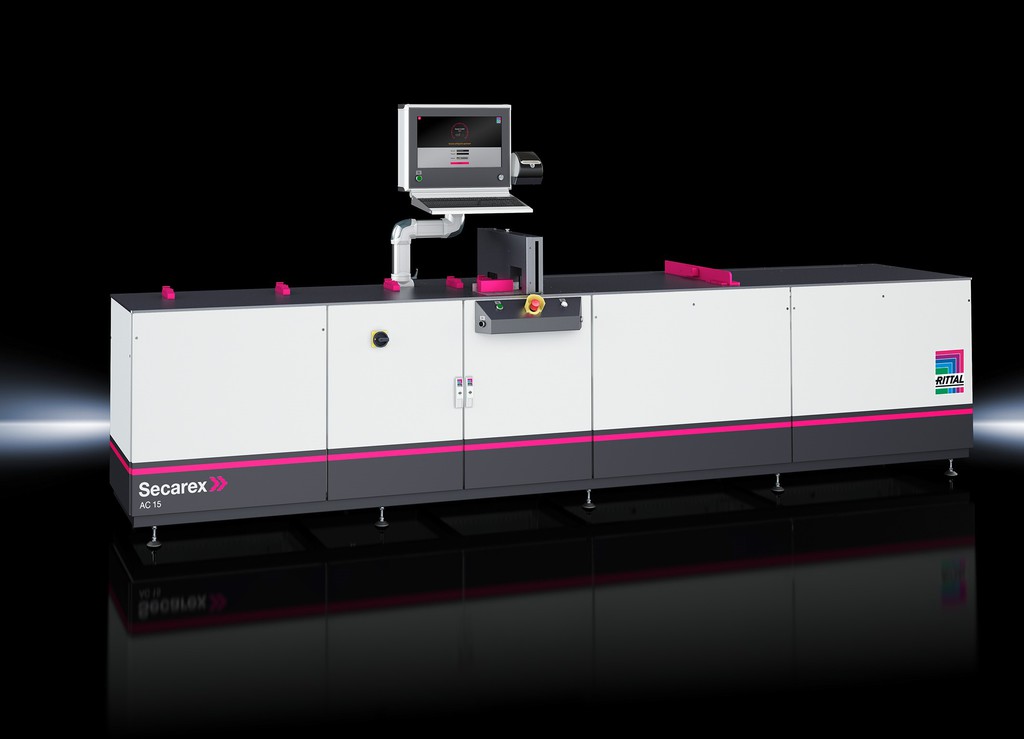 Controlled by a PC with a trackball, the Secarex AC 15 cutting centre is an easy and simple-to-use alternative to cutting support rails and cable ducts to the right length by hand. The length of the rail can be set using design planning software (such as EPLAN Pro Panel), the information is loaded up and then the machine does the rest.
If multiple rails are required, the cutting centre works out how to do with minimal waste while the integrated label printer marks the finished rails so they can be easily assigned during the assembly process. The cutting centre is able to cut DIN support rails, C rails and cable ducts in all standard sizes.
Working the copper bars used in switchgears for power distribution or as busbars are another job for the electronics workshop. The bars typically need to be cut to length, bent, and may also have holes punched in them.
All this will soon be completed quickly and safely using the CW 120 (Copper Workstation) bending and hole-punching unit, which is shortly being launched in the UK.
Workshops will have a choice of either a stationary benchtop unit for cutting, bending and hole-punching busbars with external hydraulic supply, or a mobile version designed with castors for flexible use in the workshop, which comes with integrated hydraulic pump. Power is just a single simple 230-V mains connection.
Both options will process rails at a width of up to 120 mm and thickness of up to 12 mm and will punch round holes, varying in diameter from 6.6 mm to 21.5 mm. Slots will be machined up to a maximum width of 21 mm and length of 18 mm.
Stamps and dies for round holes and slots will be available as accessories and come in different sizes.
Ultimately, the major benefit is not just to make workshops more efficient. Automating processes also lowers operational costs but just as importantly it also delivers a better quality product for the customer.
Products from Rittal's Automation Systems range will be on show along with other solutions from Rittal – The System, at Drives and Controls (the NEC Birmingham, 10-12 April 2018), on Stand D720.
OTHER ARTICLES IN THIS SECTION