ARTICLE
Force controllable axes
21 October 2014
A novel motorised XYZR gantry scanning system with a combined vertical and rotary positioning axis that includes the ability to measure its force, position and velocity has been supplied to the Imperial College Non-Destructive Evaluation Group by LG Motion.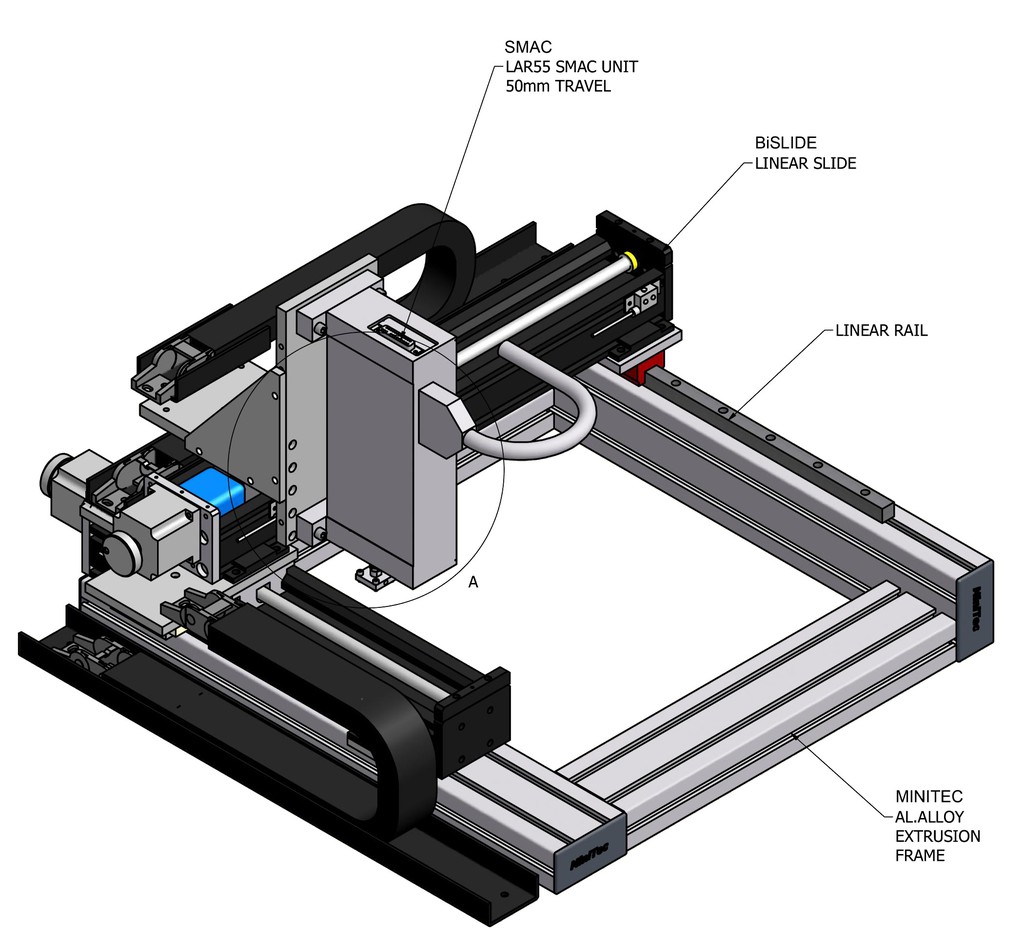 Supplied for use in a research project to evaluate critical aspects of a high temperature strain monitoring technique for use in power station steam lines and associated components, the LG Motion gantry scanner is being used in the laboratory as part of test rig that focusses on the techniques' sensitivity to changes in the electrical conductivity of components which are caused for instance, by the influence of microstructural changes associated with power station creep damage, such as grain boundary separation and carbide evolution.
The specification for the scanning system was drawn up after engineering sales visits to the Non-Destructive Evaluation Group's facilities and subsequent information exchange that included LG Motion design engineers drawing up proposals to ensure the requirements could be met within the limited space available for rig. This identified the main requirements for a horizontal scanning area of 200 mm x 200 mm with a 10 mm vertical travel with rotation that would be used to move and accurately position a small probe assembly on the surface of various components that had been subjected to microstructural damage mechanisms.
With the ability, through a supplied LabVIEW compatible motion control system, to combine the positional, velocity and force information from the vertical/rotary axes with the resistance measurements from the probe as well as control the X & Y axes in the same system, a complete evaluation was made possible with the minimal number of components – simplifying installation to save time and cost.

The combined linear and rotary axis for the scanning system is part of a wide range of moving coil technology actuators from LG Motions' distribution partner SMAC Europe. This motor technology is available in linear, rotary and linear/rotary motor formats and allows very fine programmable control of speed, position, force and torque for a wide range of automation, measurement and inspection applications. With its 'soft land' function, which allows the force to be finely controlled, SMAC actuators are used for performing extremely sensitive work in industrial applications such as fine thread forming or precision torque tightening for very small components, as well as the critical components for delicate material pick and place systems.
Through its design and production capability LG Motion combined the SMAC actuator with low-cost lead screw driven linear slides from its BiSlide range for the X and Y axes, arranged as a lower Y-axis with a parallel linear rail bearing supporting the single X-axis. The BiSlides include microstepping motors with hand-wheels fitted to aid manual pre-setup of the scanner.
The complete fully tested assembly features chain-type cable-management and was supplied on a MiniTec extruded aluminium machine frame with a fully wired control cabinet including drives and controls for all axes in accordance with BSI Standard EN60204-1 that covers EMC and LVD requirements. The SMAC linear/rotary positioner was also fitted to the assembly to facilitate its quick removal - for use independently for other work required by the Imperial College Non-Destructive Evaluation Group.
OTHER ARTICLES IN THIS SECTION