ARTICLE
Innovative motion control for aerospace applications
10 January 2017
The aerospace industry in the UK provides a range challenging applications for motion control product, many of which are behind the scenes supporting work in the telecommunications industry, earth observation and scientific satellite applications.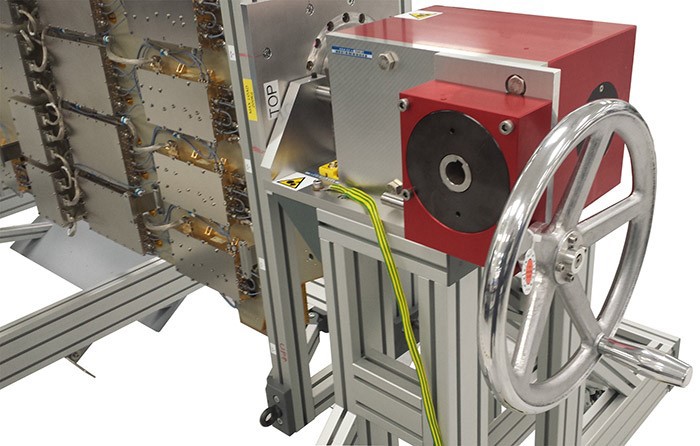 Whilst the basic motion control solution requirement is fairly universal, a specific application may require a high degree of customisation and expert design work to meet the exacting standard of the customer requirement. The following examples from LG Motion illustrate how a broad scope of engineering and design expertise coupled with a wide range of products provided innovative solutions.
Inmarsat-4 is the fourth generation of satellites for the London-based global mobile satellite communications operator Inmarsat. The customer required portable mechanical ground support equipment to lift, support and position equipment during the assembly of the spacecraft carrying the satellite. The lifting and handling equipment designed and manufactured by LG Motion site consisted of a battery powered stepper drive system capable of lifting each unit from its transit box with the aid of an overhead crane and then positioning the payload precisely with fine adjustment. The drive system is housed in a MiniTec aluminium profile system framework and a counter balance enabled the safe transport and loading of the equipment in the spacecraft.
The UK based division of Airbus Defence and Space designs and builds equipment for satellites. A rig was required to provide mounting and free access for assembly and testing of large antennae panel assemblies measuring 3m x 1m x 0.2m and weighing 115kg.
The rig was designed to allow for manual operation to securely the panels in place securely and safely and allow for complete 360° rotation and height adjustment. Being mobile the rig can be moved around the assembly area on heavy duty castors with brakes. Housed in a MiniTec profile system the assembly was fitted with linear system power transmission components including a 24:1 bevel reduction gearbox to facilitate the manual rotation of the handling frame.
OTHER ARTICLES IN THIS SECTION