Editor's Pick
---
STOBER establishes itself as a new provider of servo ball screw motors
13 March 2015
STOBER is surprising the industry with its presentation of the new EZS and EZM servo ball screw motors. Their ultra compact construction is based on the technology of the EZ and EZF servo motors introduced last year.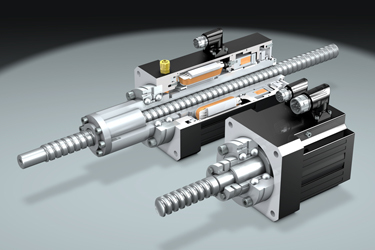 The EZS version is designed for direct drive of commercially available screw drives with rotating screw shaft. (With this design the screw nut is generally connected to a linear slide unit which it drives.) The screw is fixed by inserting it into the blind hole hollow shaft of the new servo ball screw motor and connecting it to a commercially available clamping set. Screws with a diameter of 20, 25, 32 and 40 mm can be used depending on frame size.
To absorb the high axial thrust, the EZS servo ball screw motor is equipped with a special axial angular contact ball bearing.
STÖBER has completed the series with the EZM servo ball screw motor developed for screw drives with driven nut. The EZM is suitable for a wide range of uses with its flange-mount hollow shaft for flange nut mounting to DIN 69051-5 in the S version. Adapter sleeves can be used to attach the flange nuts in the standard version to DIN 69051-5.
The motors offer a balance between powerful torque, high dynamics and precise synchronism. The dynamic characteristics of the motors can be modified on the EZS 502/503 and 702/703 models.
The extremely short motor design is based on an orthocyclic coil winding teeth with maximum copper fill factor.
All models can be supplied with liquid cooling. Forced-cooling fans are also available for the EZS ball screw motors.
Caption:
STOBER EZS 501 servo ball screw motors for direct drive of any screws.
In the background, EZM 502 servo ball screw motor (section) for screw nut drive. Model with liquid cooling, brake and EnDat® single-turn absolute encoder feedback system.
OTHER ARTICLES IN THIS SECTION