ARTICLE
Bearing calculation software
18 October 2016
Precision bearing manufacturer Schaeffler has released an online rolling bearing calculation module for hydraulic pumps. The software enables users to quickly and easily select suitable rolling bearings for vertical and horizontally mounted hydraulic pumps.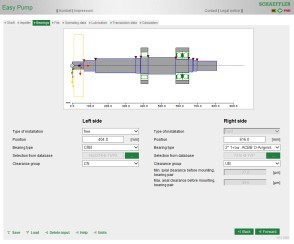 BEARINX-online Easy Pump is only available in an online format and can be used free of charge. Initial registration is simple and the user can begin calculation work immediately. Register at http://bearinx-online-easy-pump.schaeffler.com
An easy to navigate menu guides the user step by step through the software, with inputs presented visually for easy checking. Menu navigation also enables fast, easy input of data for modelling of the shaft using several stages: creation of an impeller, bearing selection and fits for the shaft and housing.
OTHER ARTICLES IN THIS SECTION