Editor's Pick
---
ARTICLE
eWON Talk2M now ISECOM STAR security certified
16 November 2017
Available in the UK through MAC Solutions, eWON Talk2M, HMS Industrial Networks' remote connectivity solution, is now ISECOM STAR security certified.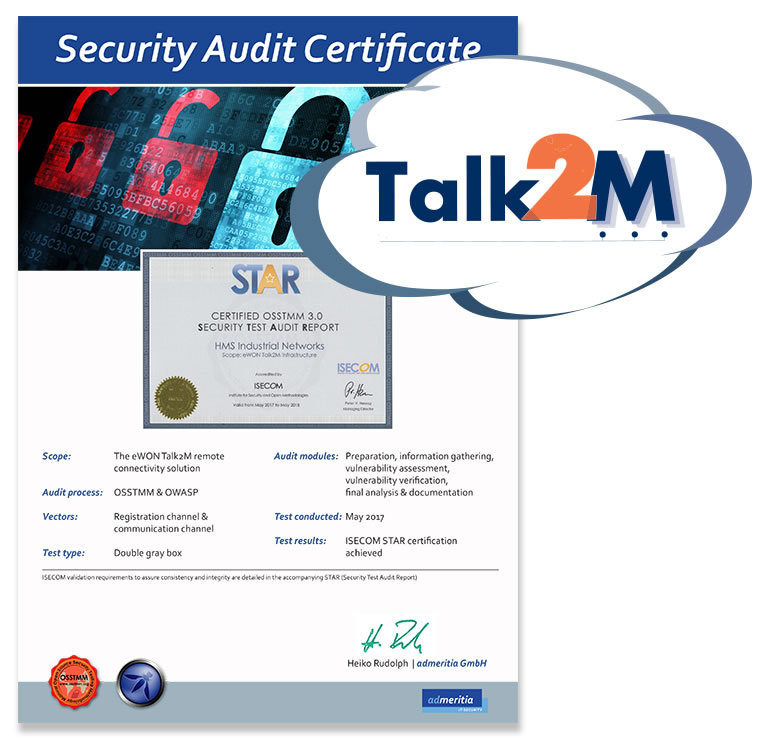 Talk2M offers users a secure remote connection to industrial equipment via eWON industrial routers. Accordingly, Talk2M is regularly tested by independent companies to maintain a high security level in today's fast-evolving technology environment.
alk2M has become ISECOM STAR certified after passing an assessment performed by admeritia GmbH, a vendor-independent German cybersecurity company specialising in IT security assessment (ethical hacking) and KPI-based security measurement. The assessment was carried out through an OSSTMM 3.0 and OWASP audit process, which included penetration tests of Talk2M targeting the cloud-based infrastructure.
eWON solutions Security manager, Geoffrey Gobert comments: "The assessment was performed through a number of tests from the perspective of a malicious actor, and we gained a snapshot of the overall security posture of the eWON Talk2M remote connectivity service. We are very satisfied to have successfully passed the ISECOM STAR security certification, and are committed to continuing with regular security assessments to ensure that we provide secure connectivity for our customers. We always aim to identify any technical risk that can translate into business risk."
OTHER ARTICLES IN THIS SECTION