ARTICLE
Fast & accurate dispensing system
05 June 2014
Nordson EFD's PICO™ Jet dispensing system combines high production speed and exceptional accuracy.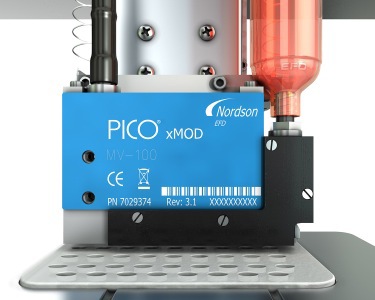 Capable of applying consistent shots as small as 2 nanoliters at speeds up to 150 dots per second, Nordson EFD's PICO™ dispenses a wide range of low to high viscosity fluids. Combining high production speed with exceptional accuracy and process control, it is ideal for high-speed, high volume applications that require many small, precise fluid deposits.
The valve nozzle does not contact the substrate, making it particularly suitable for applications where controlled amounts of fluid must be applied on surfaces that are not perfectly flat, such as printed circuit boards. It also eliminates contact with the substrate and the need for vertical Z-axis movement and precise height positioning, which can significantly increase production speeds.
The range of possible applications is huge, encompassing: electronics (bonding cell phone speakers with UV-cure adhesives), life sciences (attaching needles to medical syringes), and precision mechanical applications (jetting small amounts of grease on micro gears).
The system is easy to set up on Nordson EFD's automated desktop and in-line dispensing systems three or four axis for simple programming of dots, stripes, arcs, compound arcs and patterns on different planes.
A new modular version is now available featuring interchangeable components to accommodate particular fluids and applications.
OTHER ARTICLES IN THIS SECTION