Helical bevel gear unit put on a diet Downsizing is in vogue
13 March 2015
With the newly designed SMS KL helical bevel gear unit in sizes 1 and 2, STOBER now has compact right-angle drives which meet the requirements of the packaging machine manufacturing industry for modern, space-saving actuator engineering.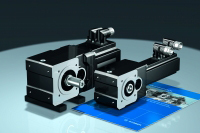 When compared with the 'conventional' K1 helical bevel gear unit version, the new KL1 supplies increased volume performance of well over 100%. The remarkable reduction in volume has been achieved by a newly designed 2-stage gear set geometry.
The housing dimensions of the two gear unit sizes illustrate the new shape factor. In the KL1 version the length is 113.5 mm, the width 81 mm and the depth 90 mm; this represents a volume of only 0.83 litres. The KL2 is 143.5 mm long, 98 mm wide and 108 mm deep, which makes its volume only 1.52 litres. This compact housing also gives a significant weight reduction which is an advantage for the drive dynamics, particularly on 'travelling drives'.
The new gear unit design is not just outstanding in terms of its dimensions. It also passes the fitness test for applications with very high speeds, because input speeds of up to 6000 rpm are possible in cyclic operation. The torque range is up to 65 Nm.
The highly stiff and compact construction requires no offset, which simplifies design of the machines and systems. On the output side, the new right-angle geared motors offer various options for output shafts and mounting methods. A further option is that motors from other suppliers can be fitted using an adapter with a backlash-free plug-in connector and thermal length compensation.
Both sizes are available in all the different versions as of now.
Caption
With these two-stage, supercompact SMS helical bevel geared motors from STOBER, slimline drive concepts can be achieved.
OTHER ARTICLES IN THIS SECTION