ARTICLE
3D printing goes live on XYZ website
29 March 2018
XYZ Machine Tools has created a separate web page dedicated to its HP Muliti Jet Fusion 3D printing technology.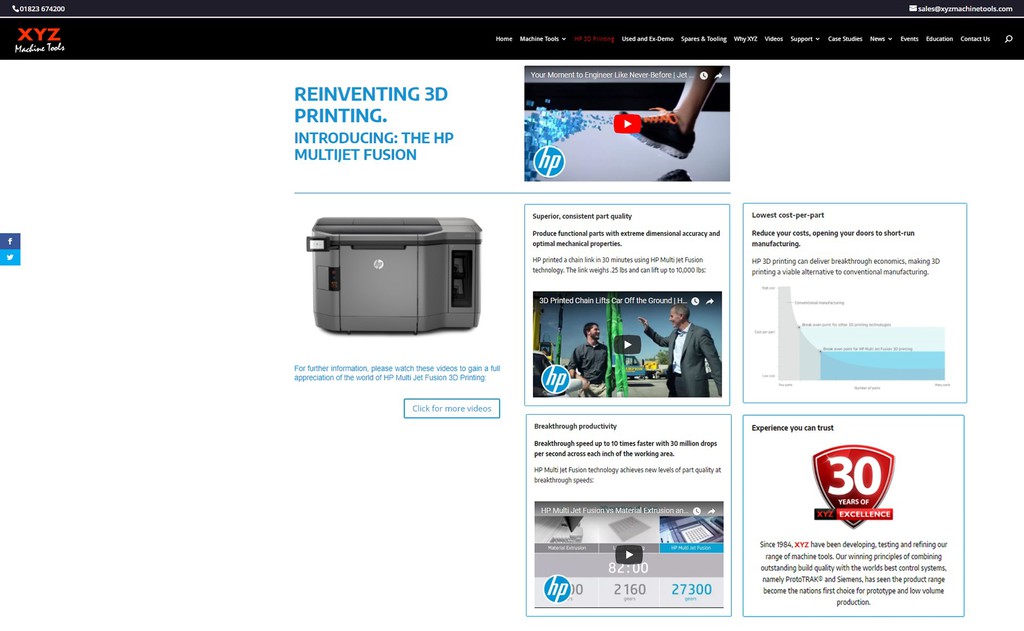 Visitors to www.xyzmachinetools.com/3d-printing can see a range of videos that highlight the potential created by the innovative and revolutionary HP Multi Jet Fusion 3D Printer technology. In addition, there is a wealth of information on the materials that can be used in developing production parts using HP's Multi Jet Fusion 3D printing system and HP's SmartStream 3D Build Manager and Command Centre software, all designed to make 3D printing a simple and productive process.
XYZ Machine Tools' move into the 3D printing sector is as an official reseller of HP's Jet Fusion 3D printing system capable of printing production-quality parts up to 10-times faster and at half the cost of comparable 3D printing systems, with build speeds up to 4500cm3 per hour. The HP Multi Jet Fusion 3D Printer technology is capable of delivering 30 million drops per second across each inch of working area, this level of concentration in combination with HP's fusing and detail agents allow extreme fine detail and dimensional accuracy to be produced. Layer thicknesses as small as 0.07/0.08 mm are achievable.
The move to add 3D printing to its portfolio is seen by XYZ Machine Tools as a logical step and the HP system with its production orientation sits perfectly alongside XYZ's existing metalcutting offering. "We are excited about this development as HP is evolving this technology and taking it to new levels in terms of applying it as a true production process," says Nigel Atherton, managing director, XYZ Machine Tools.
OTHER ARTICLES IN THIS SECTION