Editor's Pick
---
ARTICLE
Topologically optimised
06 October 2014
Engineering and additive manufacturing specialist, Renishaw has manufactured a topologically optimised bottle opener to illustrate the intricate and efficient building capabilities of additive manufacturing. The resultant appliance is a complex shape, stripped of all unnecessary material, leaving a lightweight, but robust device with high internal strength.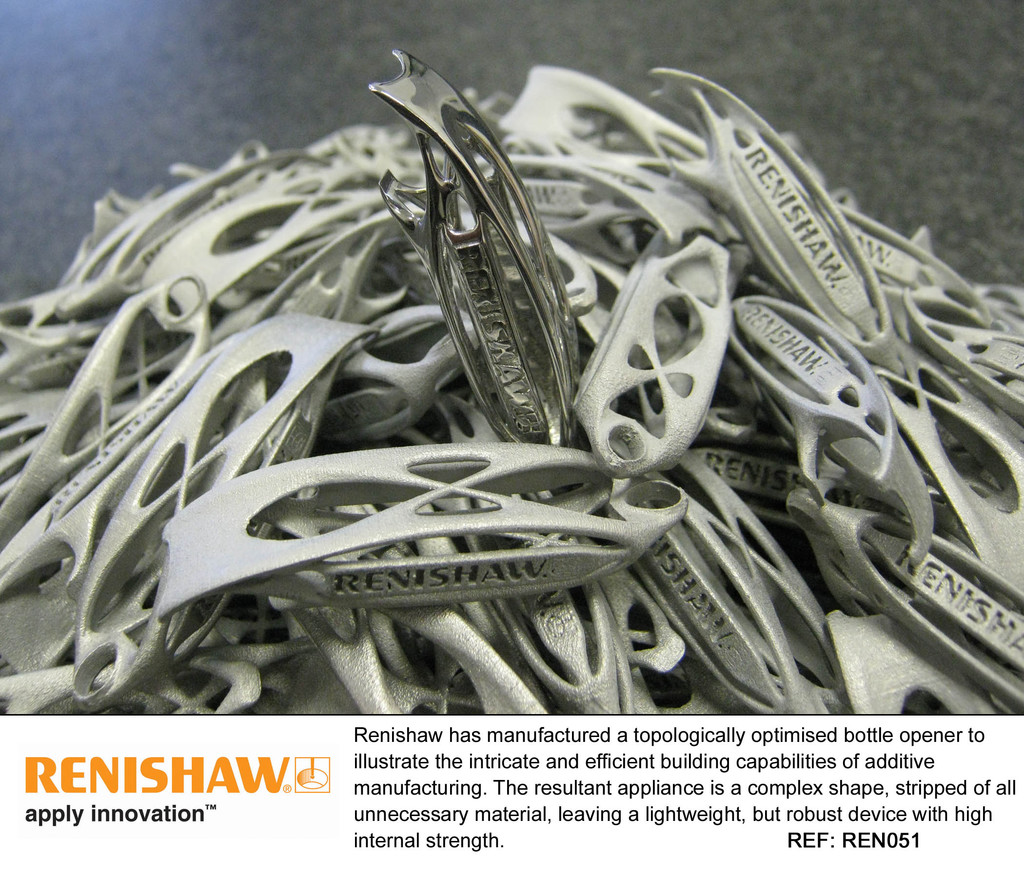 The bottle opener is designed and printed to minimise brace structure by making angles self-supporting. During the manufacturing process, the piece builds from a single point and employs minimalist branch like structures, instead of solid walls. This mass-reducing design ensures a quicker and cheaper build, whilst still maintaining structural integrity.
The bottle opener was made using a process called laser melting. This is a digitally driven additive manufacturing technique that uses focused laser energy to fuse metallic powders in to 3D objects.
"Our bottle openers are yet another example of the positive manufacturing capabilities of 3D printing," explained product marketing manager, David Ewing. "The accuracy and sustainability that additive manufacturing offers, when weighed against the minimal human interaction required, is unparalleled.
"Similarly, the level of complexity we can achieve with this emerging technology is proving extremely useful to industries in which detail is crucial. The medical and aerospace sectors have already seen such benefits.
"This is a perfect illustration of the use of AM in manufacturing, rather than just prototyping, but also demonstrates the design freedom it provides. AM is an ideal way to produce mass customised products, highly tailored products and one-off items. It's for the production floor now – not just the drawing board," concluded Ewing.
Renishaw recently made headlines when it collaborated with leading British bicycle design and manufacturing company Empire Cycles, to produce the world's first 3D printed metal bike frame. The frame was produced using additive manufacturing in titanium alloy and weighed in 33 per cent lighter than the original model.
OTHER ARTICLES IN THIS SECTION